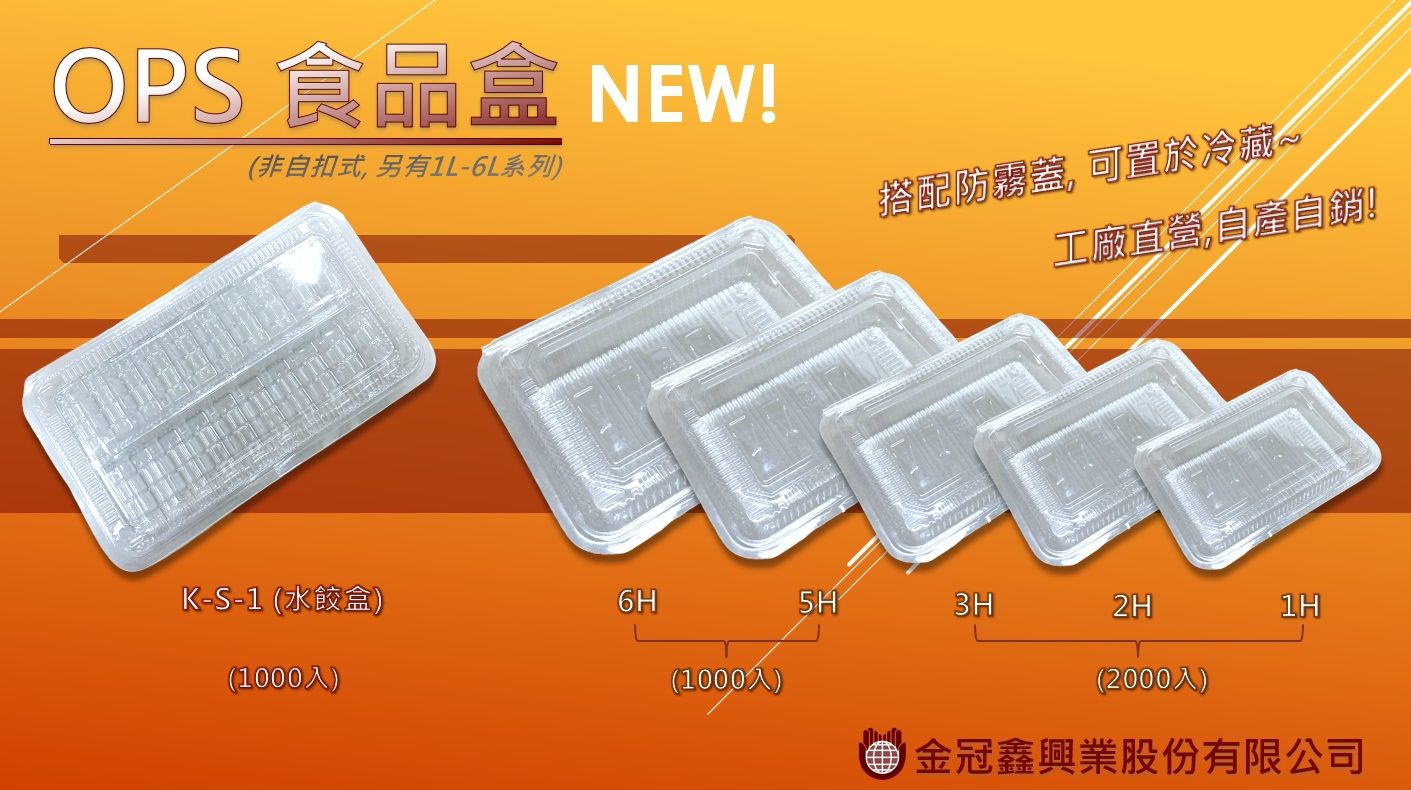 OPS 食品盒/ OPS水餃盒 OPS Food Box
Item NO.產品編號:  KYS-1H / KYS-2H / KYS-3H / KYS-5H / KYS-6H / KYS-S-1
防霧蓋 Anti-Fog Lid.
耐熱:80°C Heat resistance: 80 degrees.

不可微波 Not microwaveable.

不耐酸鹼 Acid and alkali nonresistant.

不可盛裝酒精類液體。 Do not contain alcohol-based liquids in containers.

請勿接近火源,放置陰涼處。 Do not get close to the source of fire, keep in a cool place.

供食品接觸用途,限一次性使用,請勿重複使用。 For food use, one-time use only, do not reuse.

非自扣式,需另行裝訂

。

Need to be self-binding.

不建議冷凍。

Not recommended for freezing.
Spec規格(cm): 27*15.5*3.5 cm
Material材質: BOPS(聚苯乙烯)
Package包裝: 1000 pcs(個)
Color顏色: Clear透明
Spec規格(cm): 15.5*10*4 cm
Material材質: BOPS(聚苯乙烯)
Package包裝: 2000 pcs(個)
Color顏色: Clear透明
Spec規格(cm): 16*11*4 cm
Material材質: BOPS(聚苯乙烯)
Package包裝: 2000 pcs(個)
Color顏色: Clear透明
Spec規格(cm): 19*12.8*4.3 cm
Material材質: BOPS(聚苯乙烯)
Package包裝: 2000 pcs(個)
Color顏色: Clear透明
Spec規格(cm): 20*13.8*4.8 cm
Material材質: BOPS(聚苯乙烯)
Package包裝: 1000 pcs(個)
Color顏色: Clear透明
Spec規格(cm): 21.5*15*4.8 cm
Material材質: BOPS(聚苯乙烯)
Package包裝: 1000 pcs(個)
Color顏色: Clear透明